Since inception Delhi School of Photography has been a preferred partner for Photography for many famous events.
Photography in such events is done by students of DSP under guidance of course Faculty. Students thus get exposure to real life photography.
Students of DSP over the years have been given opportunities to cover some very prestigious & popular events like:
Run for Martyrs: Marathon organised by the BSF
Pinkathon: Marathon for women
Montage: The annual festival of the Jesus & Mary College, Delhi
Reverie: The annual festival of Gargi College, Delhi
Enigma: Festival of the Sri Ram College of Commerce
Annual Festival at Manav Rachna University
TEDxFMS: The ted talk show at the Faculty of Management Studies
The IDFC Cricket for the Blind
AteliersAct Theatre Festival
Dew Arena
Ignitefest JMC
Dainik Jagran Film Festival
Melange'20
Assam Students Union Annual Function
Raising Day Parade of the BSF presided over by the President of India
Association with the BSF to photograph the guarding of our borders
Hyatt Regency Gurgaon: Food & Interior Photography
In the first ever Junior Skills Championship 2021 for classes VI-XII the joint organizers - National Skill Development Corporation (NSDC) and National Film Development Corporation(NFDC) chose Delhi School of Photography as Technical Support Partner for Digital Photography.
Delhi School of Photography Faculty team guided and mentored the selected participants for Digital Photography Skills.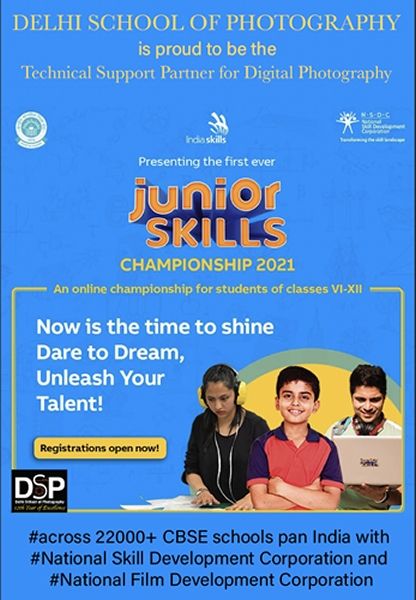 Contact us at +91-9871642054 for further details and discussions.